The Autumn leaves are starting to show – my favourite time of the year!
I love the Autumn – it's still fairly warm and chilly evenings with the rising mists particularly here near Avalon (Glastonbury) – an air of magic, mystery and transformation spreads across the land and we begin to turn very slowly inwards again.  Its a time of celebrating our harvests, what we have grown literally and our own personal harvest.  It's a time also for deciding where we go to next.  What do we take with us to see us through the darkness of the Wintertime – the seeds of the harvest we need to grow.  Have we come to a deeper understanding of ourselves through this growing season?  What more do we have to learn?  What new experiences call to us on the horizon?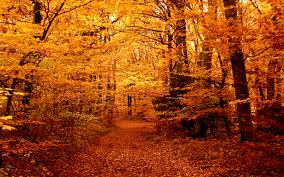 I also love this time of year because it's a time when we begin new projects – start college/school, commit ourselves to learn something different – and over the years I confess that I am a perpetual student!  I love the anticipation that starting some new project or learning brings.  Sometimes it may feel daunting and we may begin a healing course with some trepidation, knowing that it will change our lives.
As a Healer, Teacher and Priestess, I've put together a number of courses, long and short over the years to suit all levels of learning but one thing that they all have in common is that I aim to nurture your personal learning journey and love to give you full support through that journey – if it were a case of just selling a course and having nothing to do with my students learning journey – that would seem grossly unfair to you the student but also would be very unfulfilling to me!
I teach because I love to watch you blossom and be fulfilled through your learning!
Take a look here at what's currently on offer and who its for.
Crystals and Energy healing are where its at for me and I know it is for you too – I'd love to share more of this with you.  We never stop learning – I learn so much through my teaching and personal experiences – it's a never-ending magical journey!.  All of the above courses apart from the mini course (which is a snip) – have trial elements which will cost you nothing (even my big course) – so please feel free to dip in to decide!  

Lastly, however you wish to spend your Autumn – I wish you much fulfilment, an abundant harvest and learning to truly nourish your soul.

Let's begin our learning journey together soon.