BRAND NEW RETREAT – Edenic States
A 3 day Initiation Retreat into Edenic States in the Magic and Mystery in Wales – from Friday 16th to Sunday 18th September 2016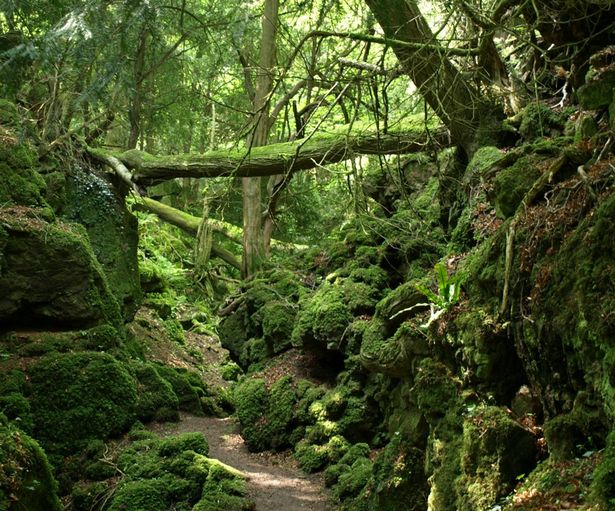 We're really excited to be offering this retreat to you at this time of immense change and transformation.
This retreat is an opportunity to really let go, strengthen and embrace all that you truly are and step into renewal and conscious living.
The retreat is facilitated by Holly Paige, an expert in Neuroactive Nutrition for more than 20 years. Holly is also a qualified Hypnotherapist and Celestial Astrologer.  I am bringing my experiential knowledge of nutrition and raw food as well as my Crystal Guru magic with Plant Spirit Medicine, Crystal Healing, Sacred Geometry and Shamanic Ceremony.
We want to help you to step into your greater self and nurture all that you are now. Our experience has taught us that the only one true reality is being completely aligned with nature and the Earth energies. We are taking you on a journey that helps you reconnect with the full potential of being Human.  The exact location of the Retreat is a mystery that will be revealed on booking – somewhere amidst the magical beauty of South Wales.
A Journey encompassing Microcosm and Macrocosm 
On this retreat you will:
Learn about and experience Neuroactive Nutrition, with some basic food prep, including fermentation.

Connect to the Magic and Mystery of Wales through Earthing and sacred site visit.

Shamanic fire ceremony and drumming.

Star Gazing

A day of Plant Spirit Medicine including plant communication and Greenbreath Transformational Healing.

As an Extra – you will be given the opportunity to take up a Life Path Celestial Astrology Personal Chart Reading with Holly.

Learn Crystal Healing Techniques to help yourself and learn how Sacred Geometry can help us step into our greater selves.

How to Integrate your learning into everyday life and follow up support

Certificate of attendance

All accommodation and meals included.

All food will be prepared to help you be your optimum best.  Both raw and cooked available.

Accommodation may be shared and includes Thursday, Friday, Saturday nights – departure 3pm Sunday.
The three days will initiate you into Edenic States, the states we want to be in – full of vitality, enabling our full peak potential.  You can read more about Edenic States here.
To book your place – please pay a non-refundable deposit of £150.
The remaining £300 must be paid by 1st September 2016.
As a very special offer – you can also buy the Plant Spirit Medicine part of the retreat as a stand-alone class.  Get the details here.
Holly is also offering her amazing Fermentation and Food Preparation Class as a stand-alone event also.  For details of Holly's Class click here.

At Last!  – A Retreat Like No other!
Edenic States Retreats are here to help you get back on track of your peak potential!  I am so honoured to be a part of this project – initiated by Holly Paige, long time entheagenic nutritionist, founder of Food for Consciousness and Edenic States.  
Together with Jolita Yamuna, Yoga Flow expert, we are putting together an amazing once in a life-time's, transformational retreat for you in the wonderful Werika Centro retreat centre at Tepoztlan, Mexico from 25th September to 1st October 2016.  Find out more here
So what's happening on the retreat and why is it so special?
We 're all waking up to consciousness, to be fully a part of our own true heroic journey towards our Truth.  During this experiential retreat you will benefit from and learn about entheagenic nutrition, sometimes called neuroactive nutrition, through the wonderful fresh, alive food and drink that will provided throughout your stay.  You will be totally grounded through your personal connection to the beautiful environment around the centre.  There will be opportunity for you to explore further afield too.  You'll enjoy Yoga flow sessions morning and evening plus meditation if you wish to.  Massage will be available with a fully qualified massage therapist.  There will also be workshops and individual sessions on Earthing, Real Sky Astrology, Star Gazing, Redesigning Your Mental Landscape – plus Plant Spirit Medicine and Crystal Healing.
We will teach you the scientific knowledge we now have that shows us how we can live with more connectedness and oneness with the Earth – even in our modern day stressful lives.  This retreat will certainly bring clarity, healing, knowledge and ecstasy to your Earth Journeypath and give you the tools to sustain it too!
During the retreat I'll be helping you get re-connected through plant spirit medicine and plant communication.  Every plant has a spirit which we can connect with.  We connect through communication in many different ways including shamanic journeying and greenbreath transformational breathing techniques.  Each experience is unique and each plant holds a very special deeply profound message for us.  I have written about one of my own personal experiences with plant spirit medicine which you can read about right here.  Plants were here long before us, they provide the oxygen we breath.  The breath itself is the most important part of our wellbeing.  How long can you live without breathing?  Profound healing can take place and we shall connect to the most amazing plants around the retreat centre.
As part of the retreat we shall also be connecting to the amazing healing energies of crystals through group healing experiences and sessions.  You will also be able to receive individual healing sessions too.  Crystals hold light and wisdom within their structured forms which can teach us so much about ourselves, our own healing journeys and of course our relationship to the Earth.
We have an earlybird price of £990 (till end of June) for the week which includes your accommodation, meals and workshops and transfer from Mexico City Airport.  A £300 deposit secures your place.  CLICK HERE NOW TO BOOK
Glimpse the amazing Weriko Centre at Tepoztlan, Mexico.